From the simple modification to a fully unique custom bass of your own design. If you can dream it up, I can probably build it!
Have an idea for a bass that you'd love to have but they just don't exist? Have you ever said "if only a bass had THIS... or THAT.....", I'd love a bass like that. Well then, we should talk.

I offer a Full Custom Shop. And unlike some other companies "custom shop" that will only allow you to choose certain options for their regular production instruments, my Full Custom Shop can build almost anything. I can take a rough pencil drawing on a piece of scrap paper.... like this: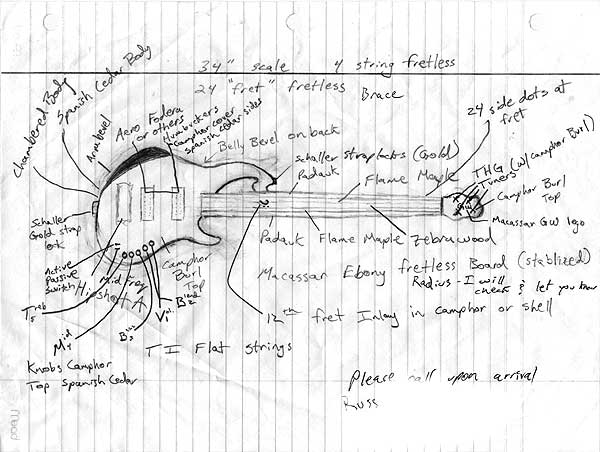 And build you a bass like this:

Or a rough design comp put together from several different pictures in some graphics software, like this: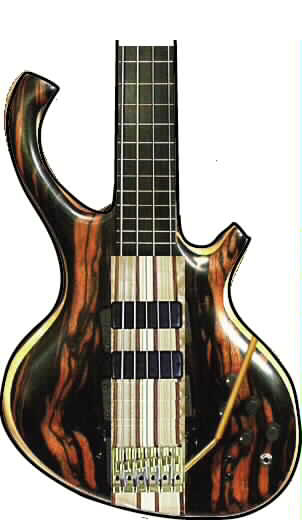 And I'll build a bass for you, like this:
Maybe a custom inlay?
Or maybe you'd like a GW Bass, but want something a bit unique to set it apart... a custom inlay of some type perhaps. So you send me a drawing of the inlay idea you'd like, like this:

I have the inlay put in a fingerboard as requested, like this:

Then build a GW Bass with it to your specs, like this:

How can I do this?
Simple, I am a small builder doing everything by hand with power tools and hand tools. So for me to build a full custom for you of your own design doesn't require a bunch of custom tooling and CNC drawing time and testing. For a full custom bass, I'll take your design or rough drawing, produce computer generated line art drawing to get all the measurements and for you to approve. I then use that drawing to make the templates I need to build the bass. For the two custom basses above, the initial rough comp line art drawings for approval are like these: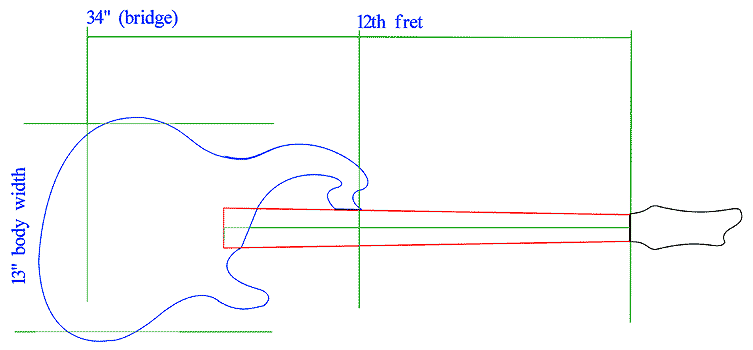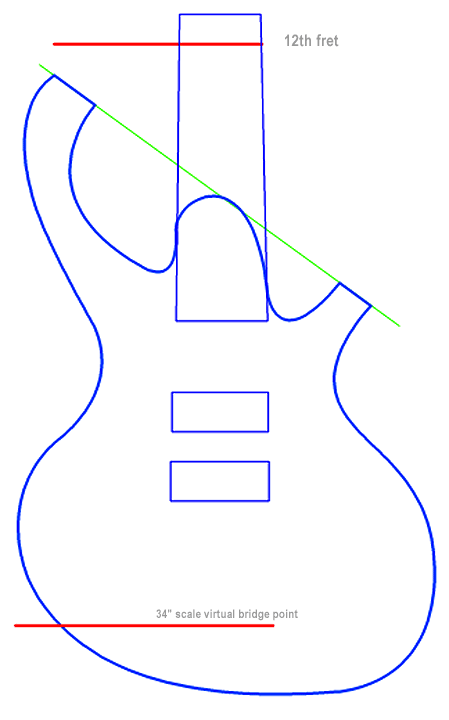 From there, work out the rest of the details like pickup placement, and other options like binding or type of inlays, wood choices, fingerboard radius, number of frets, maybe wooden pickup covers and matching knobs, hardware choices, etc.


What won't I do?
Of course, I do reserve the right to refuse to build your a bass of your own design for several reasons. First, I won't copy some other builders design. If you want Fodera, or an MTD, or a Pedulla or any other the other great basses out there, please purchase one of those. Other reasons for me to turn down a custom build would be if I determine that there are flaws in the design that would cause structural weakness in the bass, or that it might not be playable, or maybe I just don't like the design (sorry, no "Wangcasters" here, Thank You) and wouldn't want my name on it.

My regular pricing applies to any custom shop work. There is an initial non-refundable $250.00 USD "design setup fee" for a full custom bass of your own design. This fee covers the time I have to put in taking your drawings and other specifications and creating the necessary computer line art drawings for your approval, and then converting those line art drawings into full scale drawings that I use to make the templates necessary to build your bass.




Repairs, Restorations and Modifications Gallery


Here are a few of some of the more interesting or unusual repairs, modifications, or restorations that come through the shop every now and then and sometimes make me have to think a bit to come up with a solution that works.