Dan Baker II
Dan is a solid and gifted bassist, currently hailing from the Denver, Colorado area. His last project, Kilbox, stunned audiences all over the Western Circuit with their driven, hammer down Metal. Dan is not only a GW Basses sponsored artist, but I am proud and honored to count Dan among my closest friends. Not only is Dan a great bassist, he is a brother.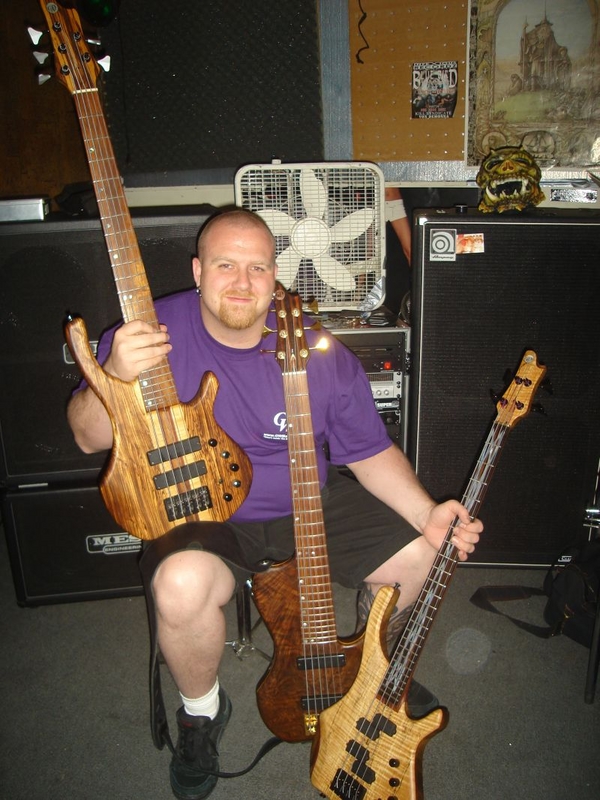 Dan with all three of his Custom GW Basses. The SC-1 in the center is none other than serial #0001, the first GW Custom Bass!

About Dan, in his own words
I have always had a love for music; it has always spoken to my heart and soul. I grew up in a house filled with music and musicians. As a child my father had an old Yamaha acoustic guitar lying around that he rarely touched. I began making noise on that around 6th grade or so. A little later in Jr. High School, my friends started a band and needed a bassist so naturally I picked up the instrument to be in the band; but quickly found a way to express what lies with in me through the bass. I have seriously been playing since the age of about 13 or 14 but my musical influence began much earlier than that.

I have influences in everything from Steve Harris (Iron Maiden), to Tony Levin (studio guru, solo artist, Peter Gabriel, Liquid Tension Exp.), Victor Wooten (Solo artist, Bela Fleck), John Myung (Dream Theater, Platypus) to Gene Simmons (Kiss).

My first band in Jr. High was called Thorium, and I think we played ONE show, and then broke up! Kind of funny, but even that experience taught me volumes about bands and performing. I've played in many bands since that first one in Jr. High, everything from rock-n-roll classic rock cover bands, to hardcore metal, to jazz, to blues. I have found a way of expressing my inner most feelings through the strings of a bass guitar, more so than any written or spoken language ever could.

I am currently the bassist for the Denver heavy metal band KILBOX. A band of brothers, best friends, and family really. Through countless shows, both locally and on the road, my GW basses are always by my side. They have defined the tone and playability I've searched for so many years.